How do I donate clothing to Harrogate Clothes Bank?
We couldn't do what we do without your generous donations, so let's start this bit by saying a huge 'THANK YOU'
You can drop off bags of clean clothing and footwear whenever is convenient by putting them into our donations wheelie-bin.
It is positioned outside our premises 24/7 and is labeled with the Harrogate Clothes Bank logo and info.
The donations bin is emptied daily by our volunteers – to help them, please ensure donations are bagged securely.
Alternatively you can deliver when we are open (every Wednesday from 10-12pm or one Saturday per month from 10-12pm).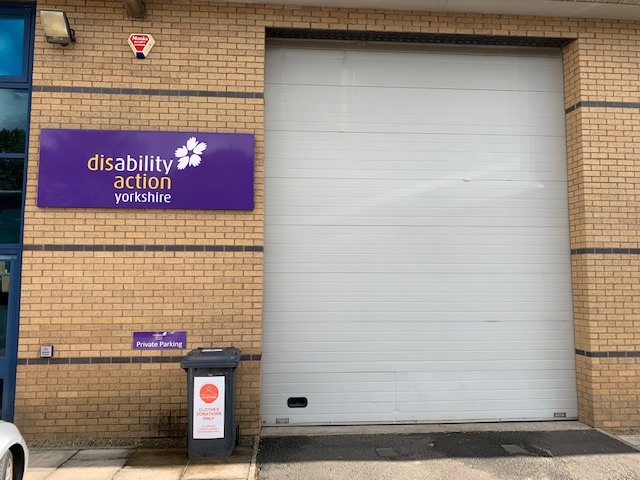 What items are needed?
Please donate good quality secondhand clothes for men, women and school-age children.
We are always in need of casual menswear such as hoodies and joggers, as well as seasonal items – e.g. winter coats in colder months, t-shirts in warmer months.
Our Facebook and Instagram pages have details of any current stock requirements.
Please only give us items you would be happy to receive yourself, undamaged, in season, clean and ready to wear. This is especially important if you're giving us shoes. Please think – would you pass this item on to a friend or family member?
To save our volunteers valuable time, please take damaged or soiled items direct to the Council Recycling Centres where you will find a dedicated container for old clothes and shoes.
MATERNITY, BABIES AND INFANTS: Our partner The Village (The Old Chapel, 282 Skipton Rd, HG1 3HE) provides a wide range of FREE maternity, baby and infant clothing and equipment. Please donate these items directly to The Village if possible.
SCHOOL UNIFORMS: We stock a limited selection of unbranded school uniforms. These are also available for FREE from The Village.
TOYS: Sorry, we don't accept toys.
FURNITURE AND HOUSEHOLD GOODS: We do not accept bedding, towels or other household items. Please contact Essential Needs, which offers low-cost items of used furniture, homewares and appliances from their warehouse on Back Gladstone Street in Oatlands, near Marks & Spencer Food.
We reserve the right to sell any high value donated items which are new or 'as good as new' in our efforts to raise funds to pay rent and other costs associated with providing a free service.
….. and thank you again.